Climateq POP120 Breather Membrane: 50m x 1m
Climateq POP120 (50m x 1m) is a high performance and afforable breather membrane available at an extrememly low and affordable price.
Outperforming many other premium breather membranes,Climateq POP120 will protect your roof from the build-up of water condensation for many years to come.
Climateq POP 120 Breather Membrane also acts as a barrier to windborne rain, snow, dust and pollution, protecting the inside of your roof.

Features and benefits:
High Water Vapour Transmission.
High Tensile Strength.
BBA Approved for use in warm and cold, ventilated and non ventilated roofs.
Easy to install - just lay and staple in place.
Installation proof (resists rips and tears).
Certified by the BBA; may be used as part of a roof system without the need for further roof ventilation.
Brand: Climateq.
Product Code: POP120.
Roll Size: 50m x 1m.
Technical Specification: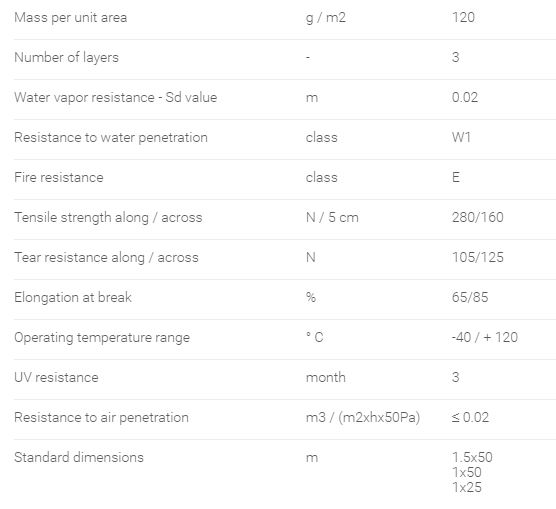 Ashbrook Roofing offers FREE or EXPRESS delivery to United Kingdom postcodes excluding the Highlands, Islands and Ireland.
Delivery expectation for orders placed before 2.00pm are:
Standard (FREE): 2-3 working days
Express (£5.00): Next working day
Prior to shipment, we'll let you know of our estimated date of delivery. Don't worry if you have made other plans or find this inconvenient. If you can let us know a day in advance we'll work with you to find a better alternative.
And remember, if you need help, have any concerns or if you need a delivery extra quickly, simply give our customer service team a call on 01629 828500, or email uscustomerservices@ashbrookroofing.co.uk and we'll do our very best to help.